This blog contains affiliate links, which we may receive a commission for purchases. The decision is yours, whether or not you decide to buy.
When a couple decide to divorce, it is easy to assume that the matter will end up in court at some point or other. As a relationship break downs, it can seem as though that is the only way to conclude things, but there is actually another option. Working with a mediator can be an effective way to resolve elements of your marriage, and it is often cheaper than many other routes too.
What is a mediator?
A mediator is a third person helps to sort out differences regarding property, money or children between yourself and your ex-partner. They are impartial and will not take sides but will have a full understanding of the law and will try to help you reach an agreement that you are both happy with.
You can speak to a mediator before going to a solicitor, and it may be something that your solicitor advises you to do. Should your case finish up in court, you are normally required to prove that you have been to a Mediation Information and Assessment Meeting (MIAM) to explain what mediation is.
This may not be necessary in cases of domestic abuse. Mediation can be a much cheaper option than court, and if your differences involve a child, you may be entitled to a £500 voucher towards the cost. You can also claim some legal aid costs for mediation id you are on a low income.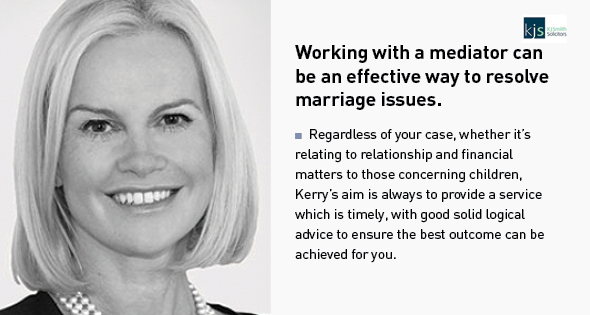 The mediation process
Before attending a mediation session, it is best to consider what you want to achieve. This means you can spend the time focusing on the right things and making it more productive. If your disagreement surrounds finances, you will need to complete a financial disclosure form which provides details of your income, living costs, savings, debts and any property that you own.
Take as much paperwork as possible with you and be honest about your finances as your agreement may not be valid if one of you has tried to hide something. To start with, you and your partner will meet the mediator separately to outline the issues as you see them. There will then be further sessions where you will all sit together to discuss your differences.
If you are unable to sit together, you may be in different rooms with the mediator moving between the two but this can take longer and be more expensive.
If your issue surrounds your children, the mediators focus will be on what is best for the children and their needs. Depending on the situation, they may even speak to the children themselves. Whilst your mediator cannot give legal advice, they can listen to you both and try to create an atmosphere in which you can reach an agreement you are both happy with.
They will be able to suggest some practical steps that you can both take and write a 'memorandum of understanding' to show what you have agreed. This can then be taken to a solicitor who can turn it into a 'consent order' which will be approved in court for a nominal fee. You will be able to take your partner to court if they do not stick to something within the agreement.
If an agreement cannot be reached, you will then need to speak to a solicitor about the next steps. A mediator will not be able to settle every agreement, but they are a great step to helping you work things out between you without the need for bitter court battles, making your divorce a much easier process as well as a cheaper one.
Written by Kerry Smith Head of Family Law at K J Smith Solicitors. K J Smith Solicitors are experienced family solicitors in the Thames Valley area specialising in family mediation, estate planning and divorce and separation.
Like to write an article? Email info@divorcedparents.co.uk
PHOTO CREDIT: ANDREA PIACQUADIO