This blog contains 

affiliate links

, which we may receive a commission for purchases. The decision is yours, whether or not you decide to buy.
If you're considering a divorce, it can be difficult to think about all of the changes that may ensue — including decisions about your family home.
Whether or not to change your ownership arrangements is an important consideration, as it could have a significant impact on both parties involved.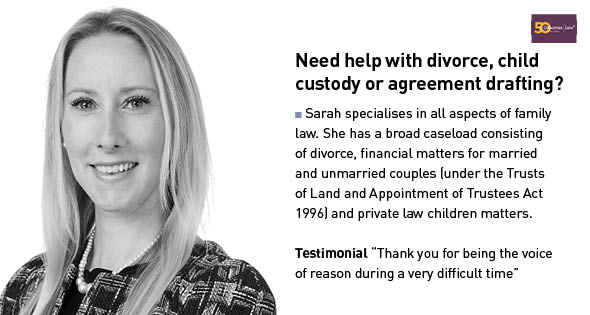 What is a joint tenancy?
When two people own property together, they have a choice of two ownership structures: "joint tenancy" or "tenancy in common." The names may sound similar, but there are important distinctions between the two,
Joint tenancy means:
 You and your partner own the whole of the property jointly.
There are no distinct ownership shares.
If one of you dies, your share automatically passes to the other with no need for a will to set this out. This is known as the "right of survivorship."
Tenancy in common means:
You and your partner own separate, distinct shares of the property.
The ownership is usually based on what each person contributed to the purchase price such as 70/30, but it can be whatever you decide.
If one of you dies, your share does not pass automatically to the other owner. You can leave your share to whoever you like in your will.
What happens when you separate?
Most married couples own their family home as joint tenants because of the right of survivorship. It makes sense to have this right as it ensures that your spouse and any children have a place to live without all the fuss of probate, if something happens to you in the future.
However, if you decide to divorce or separate, it's important to consider whether you want the right of survivorship to continue. Many people don't want the whole property to pass to their, now, ex-partner when they die.
That's where the severance of joint tenancy comes in. Severing a joint tenancy means converting the joint tenancy into a tenancy in common, meaning you no longer have undefined shares.
There are pros and cons to doing so, but it's important to think about your ownership arrangements while you decide how best to deal with the property post-separation.
Why should I sever my joint tenancy?
There is no need to sever your joint tenancy if you are going to sell the property straight away. However, many couples do not want to sell the property when they separate.
For example, you may decide that one of you should continue to live in the family home with the children to preserve stability for your family. Or you might wish to delay the sale due to market conditions or because you are uncertain about what your next move should be.
In these cases, it's sensible to talk with your solicitor about whether switching to a tenancy in common would be a good option for you. Severing the joint tenancy means the property will be divided into defined shares which could be 50/50 or in unequal terms.
More importantly, your ex will not inherit your share and you are free to leave it to someone else in your will.
Are there risks in severing the joint tenancy?
If you are living in your former marital home as a tenant in common, the biggest worry is what happens if your partner dies and leaves their share to someone outside the family. One popular solution is to aim towards buying your ex-partner out in the long term.
If that's not financially feasible, then it may be better to remain in a joint tenancy until the children are no longer living at home and dependent on you.
There are other options too, which your solicitor can discuss with you. Bear in mind that how you own your home has no bearing on the financial settlement of your divorce.
All assets, including your property, will be divided in a way that the court agrees is fair and severing the joint tenancy does not affect that.

How do you sever a joint tenancy?
Usually, both parties will agree to sever the joint tenancy as part of their divorce arrangements. But the good news is, you can sever a joint tenancy unilaterally without permission from your ex-partner.
All you need to do is serve a notice of severance on your ex. A solicitor can write this for you to make sure it is done correctly.
Once the notice is served, the next step is to register the, now, tenancy in common with the Land Registry so it's clear there's no right of survivorship. It's sensible to alter your will at this point to make sure that your share in the property passes to your loved ones as per your wishes.
Written by Sarah Norman-Scott Associate Solicitor & Resolution Accredited Specialist Osbornes Law
PHOTO: GRANT ARCHITECTS
You may also like
Books
Buy now from Amazon
Podcast
If you're looking for some straight-up, positive advice on topics that affect your daily life, then check out The Sue Atkins Parenting Show. Each week Sue bare will discuss every possible aspect of your parenting challenges, from weaning to whining, boundaries round technology to stroppy teens. You'll get practical tips, techniques and advice that really work- and it's all totally free.

Articles
Videos
Practical advice and tips from professionals on what to do with issues and challenges around divorce from parenting to finance.


Events
Practical tips & advice designed to help people going through divorce, whether online or in person.


Useful links
Here's a selection of organistaioins from parenting to finance to help you with your divorce.


Legal professionals