This blog contains affiliate links, which we may receive a commission for purchases. The decision is yours, whether or not you decide to buy.
Family Mediation is a very popular method used by separated and divorcing couples to help them reach a settlement about their finances and/or child arrangements. When successful it can also help save time and costs, as well as allowing the couple to feel more in control of the agreements, they reach.
Family law solicitors recommend their clients consider mediation as an option but there are important situations when it is not appropriate, e.g., when there has been abuse or coercive control within the relationship. In those cases, there are other options available to the couple to help them resolve their separation issues.
The traditional format for family mediation sessions involves sitting in the same room with their ex and the family mediator (or adjacent rooms if doing shuttle mediation). During the Covid pandemic, as with many of us, mediators needed to alter how they continued to provide their services.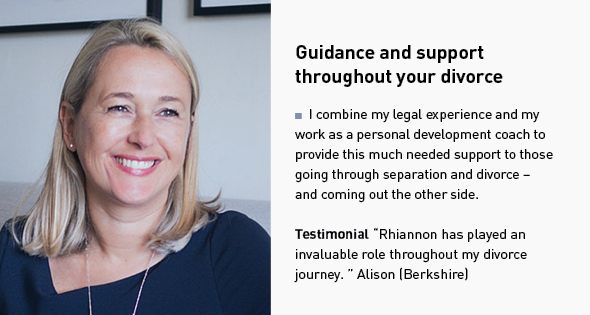 Family Mediation since Covid
Thanks to technology, mediation services have been able to continue during the Covid pandemic, with the sessions being available via video platforms such as Zoom.
In my work as a divorce consultant, I have seen an increase in the number of my clients who have decided to do mediation who would have been apprehensive about choosing it, had the sessions taken place face to face.
If you were already used to working online before the pandemic or had become familiar with using video during lockdown, then having your mediation sessions online would probably have felt fairly comfortable. However, for those people not used to using technology or at least video, it may have felt more challenging.
A lack of knowledge and/or confidence in the use of video technology isn't something to be concerned about though, the family mediator goes through how to use it, so the clients feel comfortable before the joint sessions begin.
What are the benefits of online mediation?
My clients who are using family mediation have informed me of various benefits to having their sessions online rather than in person. These have included: No travel or parking, saving time and costs.
Geography is no longer an issue when working online. The chosen mediator could be based anywhere in the country and doesn't need to be someone local for the couple to be able to travel too. Finding the mediator who is the right fit for your situation, could mean choosing someone who is based in a different part of the country, when you're working online.
The couple themselves may also live some distance from each other which could make choosing a "local" mediator for "in person" mediation more challenging; not a problem when it's taking place via video.
Some clients enjoy the fact that they are having the sessions on their computer, in the comfort of their own home which can feel more relaxing than being in a mediator's offices. Some clients benefit from not being physically present with their ex.
They might have felt nervous about the prospect of being with their ex to discuss their family situation which is alleviated with online sessions. Having their sessions on a video screen, could also help some clients keep focused for the discussions.
What are the potential disadvantages of family mediation online?
Some clients may prefer the formality of the physical environment of the "in person" mediation sessions. It might help them keep focused if they are in a professional setting.
Whilst working from home during Covid, we have all become quite accustomed to interruptions and distractions during video meetings – e.g., from pets, children, the doorbell.
This could be disruptive for the client's concentration in the online mediation discussions. Another challenge of online sessions is the risk of problems with technology. It can be stressful when there are problems logging on to the video platform and/or if there are broadband, video, or sound issues.
Some clients have mentioned losing the feeling of support from the mediator when the sessions are online rather than in person at the mediator's offices. For couples still living in the same house, online mediation could be challenging. In this situation, it would be more appropriate for the couple to be in separate locations and/or at least separate rooms in the house.
Concentrating on the video screen the whole time may feel too intense for some people, who may prefer the meetings take place in person, where they don't need to be looking at the person speaking the whole time.
What family mediators say
I've spoken to family mediators to get their thoughts on online mediation. They agree that many clients are keen to choose the option of mediation online, even though in person mediation is now becoming available again.
However, they have explained that running the sessions online has some challenges for them as the mediator. Downsides for them include not being able to read body language as easily to know how the participants are feeling e.g., if someone is becoming upset, stressed or angry and might need the mediator to step in to provide support or guidance.
Mediators have explained how more safety checks are needed for sessions online, to ensure mediation is safe and appropriate. This can make the MIAM appointments longer. Instructions about the technology also need to be factored into the introductory sessions. It can also be more challenging for the mediator to create space and time for breaks when the sessions are online rather than in person.
Conclusion
Now that the Covid restrictions have eased, many mediators are offering a choice of online or in person mediation for clients. This provides choice to the couple, to decide which option is most appropriate for them.
Understanding the pros and cons of each, can enable the clients to make an informed decision of which option they would like to use. Online mediation doesn't work for everyone.
The method chosen by the couple will depend on the individuals involved. They would need to decide which would feel more comfortable and constructive for a successful mediation process. I support lots of clients going through the mediation process, to help them prepare for their sessions.
If you're about to go start family mediation or are already in the mediation process and would like my help and guidance, please get in touch here – rhiannon@rhiannonford.co.uk.
Rhiannon is a divorce consultant and coach with over 20 years' experience in working with clients before, during and after their divorce or separation.
To find out more about Rhiannon's divorce consultancy services, contact her via her website – www.rhiannonford.co.uk or call her on 07970 231744.
Llike to write an article? Email info@divorcedparents.co.uk
PHOTO CREDITS: LINKEDIN SALES SOLUTIONS