About Nina
Life as a new lone parent is a complicated blend of relentless responsibility mixed in with opportunity, freedom and hope. As you ride the rollercoaster of grief and fear to find out what your new life with your children will be like, it can be a white-knuckle ride.
I have been a lone parent myself, navigating my own divorce during pregnancy. Raising my two sons alone through their early years. I am now a busy mum and step mum to four lively children, with all the challenges and joys that a modern family brings.
Today I am a leadership coach for parents with day-to-day care of their children, helping them to adjust to life parenting alone. If you are interested in working with me, it's safe to say parenting alone wasn't your plan A. The transition to lone parenthood is particularly hard in families where there has been a great deal of conflict. But even in the most hopeless of situations this is a time of possibility. Drafting plan B takes courage, imagination and grit.
I have honed my original parent leadership coaching program, Family Vision, in partnership with local children's centres in Exeter for two years. It is a proven program that helps new lone parents to design a better life for their family after divorce. Step by step, you can build a better life than the one you're leaving behind. You can work with me in person or by Skype, wherever you are.
Testimonials
It was a truly empowering experience which will benefit both my children and myself for a long time to come "Discussing what truly matters to our family with my teenage son and eleven year old daughter has opened up a dialogue about all sorts of things. It was a truly empowering experience which will benefit both my children and myself for a long time to come.
When I began working with Nina I felt like my whole approach to parenting was 'make it up as I go along' - I felt like I didn't have a clue! I was also privately afraid that I was inferior to other parents and judged myself harshly, especially since I became a single mum.
I can see now that we all struggle as lone parents from time to time. It was so helpful to share my experiences and realise that I'm not the only parent going through these things. Working with Nina was reassuring, helpful, and a lot of fun. Nina helped me see ways I could think about what I wanted for my family.
In fact, what each member of my family wanted. She encouraged me to include my children in the journey as my coaching progressed, and I was delighted to find even my 13 year old son was willing to discuss our family values and goals with me." Sue Quinton
I can hand on my heart say I have never felt as confident within myself before in my life thanks to Nina's help. "To put it mildly, being coached by Nina was revelatory. I can hand on my heart say I have never felt as confident within myself before in my life thanks to Nina's help.
I recommend her without reservation - she is superb! I was extremely frustrated and dissatisfied by life when I met Nina. I am also an intensely private person, so was very apprehensive about talking to a 'professional' about my personal life - I assumed it would be very intrusive. I couldn't have been more wrong!
Nina's approach is wholly different to what I expected. Nina creates a truly safe place to explore life, she is completely non-judgemental, and as a result I always felt free to discuss my circumstances." Kate Walker, 28
"I cannot find the words to thank Nina enough for all the support she has given me this past year. Her coaching has been a channel of healing and a blessing in my life. She is a truly special person. Being coached by Nina has given me the strength and courage to face my fears and step forward into the next stage of family life. Wherever I go, what I learned on this journey will give me the wisdom and tools I need to face life's little hiccups with confidence." Jennifer Kim, 32
"Nina is very knowledgeable. She is also kind, gentle and non-judgemental. In fact I have never felt so accepted and welcomed in my life! When we worked together I was able to think with imagination, and come up with really great ideas to move forward. Each session felt really personal, relevant and productive.
There were moments I felt moved to tears as I realised that I could parent in a way that would let my children feel accepted and acknowledged in the same way. If I can do this long term it will be the most amazing gift to my children and I. Amazing experience!" Rachel Good, 38.
"Nina Farr is an incredible coach, when I started a CEO job as a single mum I knew I had to step up, not only in work but in my home life too. Nina was incredible in helping me to create time for my son, develop great practices in self care, as well as constantly help me to stretch myself as a leader, as a manager of people and as a CEO. I have taken work issues to her which she has dealt with utmost confidence, talent and support and it has been a pleasure having her as my go to- always calm, steady and dependable.
Nina is extraordinarily intelligent too which comes in handy for trying to navigate complex leadership challenges. I have found Nina's coaching a really straight-forward, sensitive, challenging and supportive style. Unlike other coaches I have met, she knew exactly when to challenge, when to pull back and spend some time exploring what issues exist and even when to reassure you.
I enjoyed my time with Nina and would hire her again in the future. She's exactly what you need from a coach- insightful, wise, cuts to the chase and doesn't let you get away with avoidance tactics. As a result of my work with Nina, I became a great CEO and a great mum, two things I will always be thankful to her for." Anna Day, 34
How I can help
Step into leadership of your family (with practical tools to get started)
Plan your future with confidence
Advocacy skills to use at school, in legal negotiations, and in health care for both you and your child
Setting boundaries with your children and your ex
Nurture a deep connection with your children
Showing love and intimacy at home
Managing emotions linked to trauma in yourself and your children
Qualifications
BA, MA
Personal Performace Coaching Dip
Facilitator – Solihull Parenting Approach
Facilitator – Here's Looking At You Baby
Program developer – Family Vision
Coaching
1-2-1 coaching in person, telephone or Skype
Full day intensive (in person, it's possible to travel to you)
Group coaching program for lone parents (online and in person)
Parenting SOS calls
Free offer
A 30 minute SOS call to help you take immediate action today
You may also like
Book
Buy now from Amazon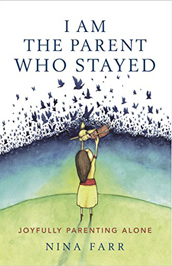 Contact Details